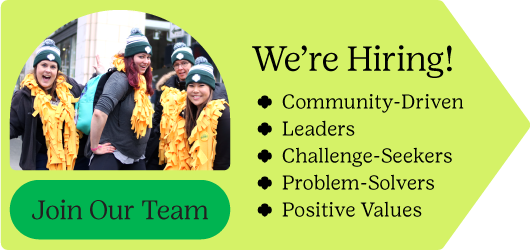 Work With Us
Girl Scouts needs you!  If you're a career professional, or looking to spend a summer at one of our camps, we offer opportunities and challenges that you won't find anywhere else. We offer rewarding careers in fields ranging from accounting and marketing, to direct service program and volunteer support.
To apply for full-time/year round employment, send resume and cover letter to:
Human Resources
Girl Scouts of Minnesota and Wisconsin Lakes and Pines
400 2 Ave S
Waite Park, MN 56387
Open Positions

Recruitment Specialist
Waite Park, MN

Contact Val Johnson at VJohnson@girlscoutslp.org for full job description and to apply. 

Summer Camp Employment
You will never forget a summer spent working with the Girl Scouts!  Young women and girls of every age come to camp for a life-changing experience of fun and work.
If you are love crafts, or sports, or exploring nature, we have room for you!  From lifeguards to cooks, from horse wranglers to canoe guides – we need people with all sorts of skills.  
Summer Camp employment benefits: 
Fun, meaningful work outdoors.
Room and board are provided in addition to salaries.
Training is provided prior to working with campers and participants.
Develop team skills and experience critical to most jobs today.
Specialty Trainings may be offered and can include; Waterfront Lifeguarding, Small Craft Safety for Canoeing/Kayaking, Wilderness First Aid, and Archery.
Employment begins the first week of June and continues through mid-August, the management team may start earlier. Plan to come to camp with CPR and First Aid certifications. Contact our Outdoor Program Department for tips for getting this essential training.
Some of your positions require special training (lifeguards, Wilderness First Aid, etc). We provide the training and certification.
Choose the camp, review the positions, and apply today!
Camp Roundelay
Minong, Wisconsin
Camp Roundelay can accommodate 140 campers and 25 staff.
Camp Sanderson
Spicer, Minnesota
Camp Sanderson can accommodate 60 campers and 10 staff.
Camp Shingobee Timbers
Walker, Minnesota
Shingobee Timbers can accommodate 70 campers and 20 staff.
Northern Lakes Canoe Base
Ely, Minnesota
Staff lives in cabins and tents. Canoe base can accommodate 42 girls and 12 guiding staff.
Positions Available at most Camps:
Assistant Camp Director
Business Manager
Food Service Manager
General Counselor
Health Care Manager
Kitchen Assistant
Canoe Guide  (Northern Lakes Canoe Base)
Program Manager
PS Arts & Crafts
PS Lifeguard
PS Recreation (Camp Shingobee Timbers)
PS Wrangler  (Camp Roundelay)
Ranch Manager (Camp Roundelay)
Recreation Manager (Camp Shingobee Timbers)
Senior Counselor
Waterfront Manager
Part Time Seasonal Maintenance Staff (Camp Sanderson)
Complete and return the Camp Staff Application to apply today! 
Contact our Outdoor Program Department with any questions:
Email or call 218 726-4710.
Return completed application to:
Outdoor Program
Girl Scouts of Minnesota and Wisconsin Lakes and Pines
424 W. Superior St.
Suite G3, Ordean Building
Duluth, MN 55802