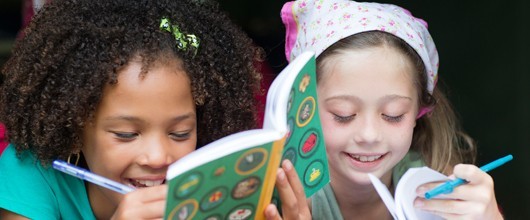 Summer Camp Guides
Download the Resident Camp Guide | Download the Troop Camp Guide
Resident, Day, Family & Troop Camps 
Choose your Summer Outdoor Adventure with Girl Scouts of Minnesota and Wisconsin Lakes and Pines! 
Get outdoors and explore at one of our four wonderful summer camp locations.  In addition to having a summer full of trying new things and meeting great friends, you'll discover teamwork, leadership, and confidence skills you never knew you had!
Whether you're new to camp and want to paddle a canoe or try the zip line or if you're a seasoned camper ready to saddle up for a trail ride, we've got sessions for every interest.
Summer camp registration is open January – August.
Our camp program
All girls entering grades 1-12 are invited to join us at camp this summer. If you're not currently a Girl Scout, you can join at the time you register for camp. Our caring, trained staff invite you to:
Resident Camp
Girls come for 1-14 days by themselves or with a buddy.
Troop Camp
Adult volunteers come along with girls from their troop for 1-5 days/nights.
Family Camp
Girls bring parents and siblings for a fun-filled weekend.
Day Camp
Girls come for a full week during the day and go home each night.
Day Programs
Girls come for a full or half day program as an introduction to camp.
Someone Special & Me
Girls attend with special caregiver/parent or grandparent for the weekend.
Wilderness Canoe Trips
Girls in grades 7-12 and adult women join us for 3-10 days.
Leadership program for teens
Provide service as you learn about and practice group dynamics, guiding activities for younger girls, and career exploration. Last 14 days/nights.
There's campfires, swimming, and singing songs. Plus …
Specialty sessions to explore hobbies, nature, theater, and more.
Try horseback riding, canoeing, archery, outdoor cooking, high ropes challenge course.
Sleep in a tent, cabin, or in our dormitory style program center.
Girls can use Cookie Dough Credits to help earn their way. Families needing additional assistance can apply for a camp scholarship.
Choose from: Camp Shingobee Timbers, Walker MN; Camp Sanderson, Spicer MN; Camp Roundelay, Minong WI; or Northern Lakes Canoe Base, Ely MN.
Camp Roundelay, Camp Sanderson, and Camp Shingobee Timbers are accredited by the American Camp Association/ACA. Learn more about ACA accreditation.